January 29, 2009
By the middle of the trimester, there are lots of assessments that have collected in your Scoresheet in the PowerTeacher Web Gradebook. When you add a new assessment at this point, it is placed in chronological order–typically all the way over to the right side of the screen if it is the newest assessment.
One very easy tip that can help "clean up" your Scoresheet screen while you enter is to use the "Reporting Term" filter pull-down menu near the top of the Web Gradebook window.
Simply, click on the pull-down menu and select "This Week."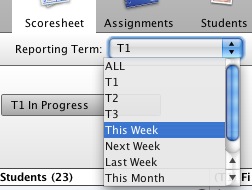 Now, only assignments with Due Dates from "this week" will actually appear. Unless it is the end of the week and your teammates have entered a lot of assessments this week, you should see very little there. This will result in the assignment column appearing next to or near the Final Grade and Student Name columns.
When you're done, you can simply change it back to the trimester (i.e., T2) in order to view the assignments from throughout the trimester.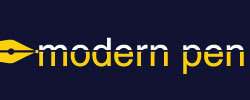 Each District 21 school is named after an American author, and learning and literacy is at the center of our Professional Learning Community. The Modern Pen provides a collaborative location in which District 21 teachers can come together to learn the skills that will enable their students to learn new skills and to understand concepts at an even different level than before.
Search