September 26, 2010
Teachers can actually mark a Power Standard on an assignment without giving any score for the academic grade on that assignment. This is also exactly how Kindergarten teachers can and should collect and enter data on the performance of their students.
First, create the assignment as you normally would.
Then, assign the appropriate Power Standard(s) to the assignment.
Next, click in the regular academic grade of the assignment.
In the menu bar at the top of the screen, go to Tools > Fill Scores and fill all of the cells (each student) for that assignment with an "EX" for marking the assignment Excused (See below–You can use the Comment feature to further clarify for colleagues and parents.)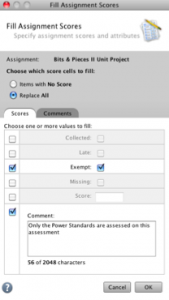 Then, expand the Power Standards by clicking the S in the Assignment Column Header, and enter the Power Standard performance for each student on any Power Standards that have been assessed.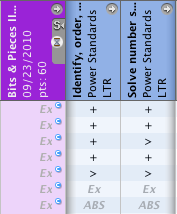 Now, only the Power Standards will "count" for this assessment, which will not impact the academic grade at all.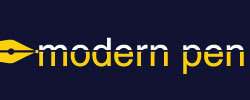 Each District 21 school is named after an American author, and learning and literacy is at the center of our Professional Learning Community. The Modern Pen provides a collaborative location in which District 21 teachers can come together to learn the skills that will enable their students to learn new skills and to understand concepts at an even different level than before.
Search