May 19, 2013
Each component of Google Apps (Gmail, Calendar, Drive, Contacts, etc.) has its own settings that the end user (staff member or student) can set for himself or herself. While there are a handful of settings that have been set at the District-level for either students, staff, or for all users, most settings have been left open for individual users to adjust for themselves.
Accessing the Settings is typically very easy–Simply find the "gear" button (pictured below) and click on it.

Once you click on the "gear" button, a menu will expand from it, and you can select settings.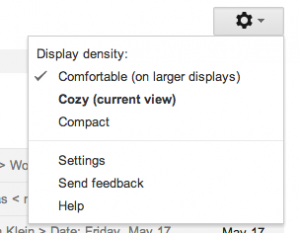 Please note that the "Help" menu also exists under the Gear icon for each Google Apps module.
Finally, you will arrive at the settings pages. As pictured below in the Mail settings, I can do everything from set the language to enter my email signature here.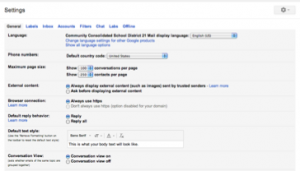 In some Google Apps apps, like in Mail and in Calendars, there are multiple tabs going across the top of the Settings screen with LOTS of settings options contained within each tab.

So, curl up with your computer and adjust the Settings in Google Apps to make you most efficient and effective.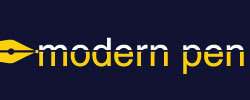 Each District 21 school is named after an American author, and learning and literacy is at the center of our Professional Learning Community. The Modern Pen provides a collaborative location in which District 21 teachers can come together to learn the skills that will enable their students to learn new skills and to understand concepts at an even different level than before.
Search