May 19, 2013
Subscribing to calendars that have been created by others is easy-to-do in Google Apps (as is creating new calendars and sharing those). Each school in School District 21 will have two pre-created master calendars that can be used to view school events–one will be a public calendar for student, parent, and community events and the other will be a staff calendar for meetings, etc. These calendars are created by the Information Services team and permissions to add events to these calendars are given to the school principal, secretary, and a small number of other users.
District-wide, there are already two calendars available to all users at the launch of Google Apps. These are:
CCSD21–A public calendar of Institute Days, school vacations, and other important events, as well as the letter days.
CCSD21_PD–A public calendar that provides information about district-wide professional development events.
To subscribe to one of these calendars, follow these steps.
1. Highlight and copy the iCal address of the calendar to which you would like to subscribe from the addresses listed below.
CCSD21:
https://calendar.google.com/calendar/ical/ccsd21.org_
hmmvndirsrte943inu9gg2fua4%40group.calendar.google.com/public/basic.ics
CCSD21_PD:
https://calendar.google.com/calendar/ical/ccsd21.org_
ca1k7dlog2hvnn2cbipqrqnqs0%40group.calendar.google.com/public/basic.ics
2. In Google Apps, go to your Calendar. Under "Other Calendars", select the "Add by URL" option as pictured below.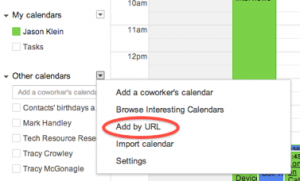 3. In the "Add by URL" dialog box, paste the address in to the long text box. Click the "Add Calendar" button.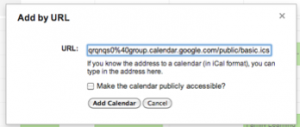 4. The calendar has been added. When you click to the right of each calendar, also note that there are a number of additional display settings available.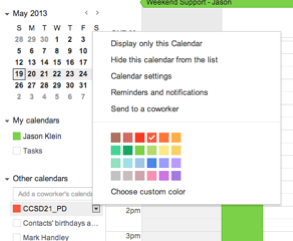 5. Finally, by clicking the colored box to the left of the calendar, I can quickly decide whether or not additional calendars are displayed. In the picture below, all of the calendars except the "Jason Klein" calendar are not displayed.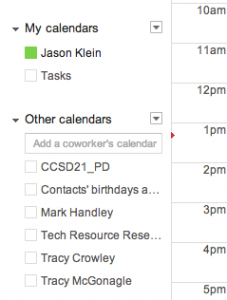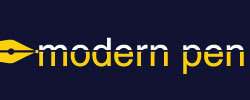 Each District 21 school is named after an American author, and learning and literacy is at the center of our Professional Learning Community. The Modern Pen provides a collaborative location in which District 21 teachers can come together to learn the skills that will enable their students to learn new skills and to understand concepts at an even different level than before.
Search