May 28, 2013
In Google Drive, you can share one or more of your files or folders with people by sending them a link to your file or sharing the file with an individual's email address or a mailing list.
To share a file:
1. Go to your Google Drive.
2. Check the box next to the file or folder you'd like to share.
3. Click the "Share" button (pictured below).

4. Type the email addresses of the people you want to share with in the text box below the phrase, "Add people". You can add a single person, a mailing list, or choose from your contacts.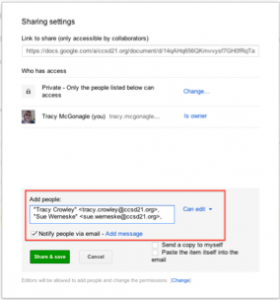 5. Choose the access level from the drop-down menu next to each collaborator: "Can edit," "Can comment" (Google Docs, Sheets, and Slides only), or "Can view".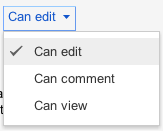 6. Other options in this dialog box to be aware of:
Notify people via email
Add message
Send a copy to myself
Paste the item itself into the email
7. Click the "Share & save" button. Shared items have 'Shared' next to the file name as pictured below.

Tips for sharing in Google Drive
Notify people when you share something
Whenever you share something with someone they'll receive an email notification to let them know they have access and can retrieve what you shared the next time they sign into their Google Drive. Prefer not to notify them? Uncheck the "Notify people via email" box.
Add lots of collaborators quickly by sharing with a Google Group
Rather than type your collaborators' email addresses one-by-one, add an entire Google Group. Each member of that Google Group will have access to whatever you've shared, including people who are added to the group after you've shared something. This option isn't available for mailing lists that aren't Google Groups.
Share lots of files at once
If you want to share multiple items with your collaborators, move them into a folder and share the folder, with them. Since you're sharing the folder, that's their key to access. They'll be able to access to whatever's stored there or lose access if you remove something that they don't already have access to.
Sharing permissions
When sharing with people, both inside and outside of CCSD21, it is very important to be careful about what permissions are given to other individuals. Student or staff data should only be shared with those who need access to the information. Additionally, the data is much more secure when using sharing via Google Drive than it is sending an email attachment, so that is the preferred method of sharing.
In addition to carefully considering who has access to a file or folder, when sharing, it is also critical that the owner of the file or folder being shared, considers the level of access that others are given as described above.
Finally, sharing privileges can be taken away or changed at any time. Simply, go back in to the Sharing settings for a particular file or folder, make adjustments, and click the "Done" button.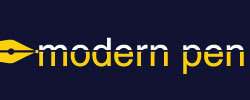 Each District 21 school is named after an American author, and learning and literacy is at the center of our Professional Learning Community. The Modern Pen provides a collaborative location in which District 21 teachers can come together to learn the skills that will enable their students to learn new skills and to understand concepts at an even different level than before.
Search