May 28, 2013
While Google Drive will work in most browsers, CCSD21 students and staff members will use it most frequently and to the greatest effect in the Chrome browser, and all features and apps are supported when using Chrome.
If you haven't done so already, sign into Google Apps with your CCSD21 Google Apps account.
Once you have signed into your account, there are many ways to open Google Drive using the browser. Here are 3 ways to do it:
1. If you're already logged into Google Apps (while checking your email, calendar, etc) click on the word Drive in the Apps button below the browser's Back button.

2. In Chrome, click to open a new tab. The screen of the new tab will display all of the Google Apps icons that District 21 has enabled or that you have downloaded. Click on the Google Drive icon (pictured below) to open Drive.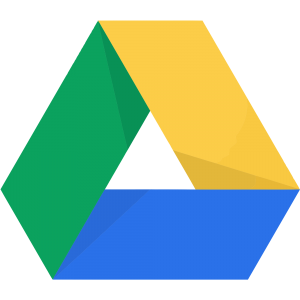 3. Click on the Google Drive icon in the white menu bar at the top of your computer screen and select "Visit Google Drive on the web" from the list of options.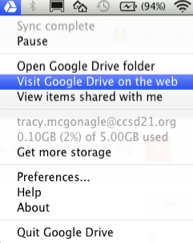 My Drive view
"My Drive" is the home for all your files. The contents of "My Drive" are synced with the contents of a folder called "Google Drive" on your computer. Only the contents of "My Drive" are synced. (You can move files that have been shared with you to "My Drive" if you want them to sync to your computer).
To help organize your files, you can create folders in My Drive and put documents in the appropriate folders. Click on the triangle just to the left of My Drive to expand it and see your folders.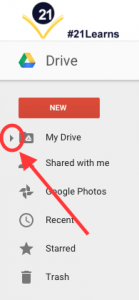 Shared with me view
"Shared with me" is where you'll find the files and folders that have been shared with you by other people.
Starred and Recent views
Click "Starred" to see all of the items that you have marked with a star. Stars can be used like bookmarks or favorites to quickly go to documents that you frequently use.
Use the "Recent" view to see all the private and shared files that you've recently opened. This is a great way to find the documents you've worked on most recently.
More views
Click on the triangle to the immediate right of "More" to expand it. "More" contains Activity, Offline, All Items, and Trash.
1. Activity view – Everything that has been edited recently. This view includes anything that you've created, that has been shared with you, or that you've clicked the link to open.
2. Offline view – Click this to work with your items you have saved in the Google Drive folder on your computer.
3. All Items view – Everything in your Google Drive, except for what you've put in the Trash.
4. Trash view – Everything you've placed in the Trash. You can only Trash items that you own.
Understanding File Types
Microsoft Office Files in Drive
After you have uploaded your items to Drive (which is explained in this post), you will notice that Microsoft Word documents have a 'W' next to them, Excel spreadsheets have an 'E', and PowerPoints slideshow presentations have a 'P' in their respective familiar colors (blue, green, and orange-ish).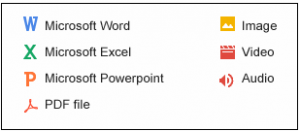 Google Apps Files in Drive
Google Docs, Sheets, and Slides will have an icon in the same familiar colors used by Microsoft.

For more information on navigating your Google Drive, please see this post from Google Support.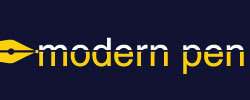 Each District 21 school is named after an American author, and learning and literacy is at the center of our Professional Learning Community. The Modern Pen provides a collaborative location in which District 21 teachers can come together to learn the skills that will enable their students to learn new skills and to understand concepts at an even different level than before.
Search