August 9, 2013
It is often helpful to be able to view open times in the schedules of colleagues in Google Calendar. After viewing open times on the calendars of multiple event participants, a meeting or even can be scheduled when everyone is likely to be free. Just as easily, invitations can be sent putting the event in everyone's individual calendars while also giving the event creator information about who will be and who will not be attending. Scheduling meetings and events in this manner is time efficient and can be done with ease.
To View Open Times Follow the Directions Below
1. Open your Google Calendar.
2. Click on a time and date to add a new event. A double-click will bring you straight to the event screen. If you don't see the screen below, click on the Edit Event link.
3. Fill in the meeting or event information in the available fields.
4. Click on the Find a Time tab (circled in light green in the middle of the window).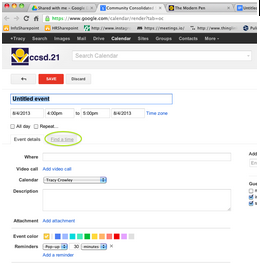 5. In the upper-right corner of the window (circled in light purple), add the names of the colleagues of the schedules you would like to view and their free and busy times will appear next to your personal schedule.

6. When you find the best possible (It may not be possible to find a time that works for all invitees!), click the red Save button at the top of the screen, and you will be prompted to send the invite.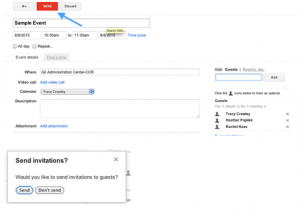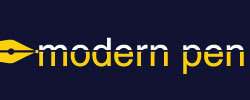 Each District 21 school is named after an American author, and learning and literacy is at the center of our Professional Learning Community. The Modern Pen provides a collaborative location in which District 21 teachers can come together to learn the skills that will enable their students to learn new skills and to understand concepts at an even different level than before.
Search