August 23, 2013
Previously on staff laptops, Outlook 2011 was the default email client. Now, Outlook is no longer needed and is actually blocked to avoid confusion for staff members. Nevertheless, when working on the web, it is not uncommon to come across a link that will take you directly to an email. Unfortunately, unless you change Gmail in Chrome to be your default email client, these links will try to open Outlook (which will not work!).
Setting up Gmail within Chrome as your new default email client
First, navigate to Gmail within Chrome.
Once on the Gmail page, you will notice the symbol of two overlapping diamonds pictured below in the Omnibar at the top of the web browser toward the right side.

Click on that two-overlapping diamonds symbol and a new menu will appear below it as pictured here.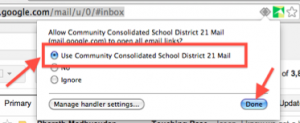 Like in the above picture, simply select the top option–"Use Community Consolidated School District 21 Mail". Then, click the "Done" button.
Email links that you come across on the web should now open in Chrome for you!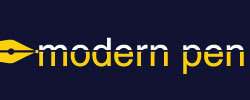 Each District 21 school is named after an American author, and learning and literacy is at the center of our Professional Learning Community. The Modern Pen provides a collaborative location in which District 21 teachers can come together to learn the skills that will enable their students to learn new skills and to understand concepts at an even different level than before.
Search