October 20, 2013
Chromebooks run the Chrome OS operating system developed by Google. Chrome OS is a version of Linux, and it's primary function is to provide users with a connection to the Web and all of the services that one uses on the Internet.
Chrome, the web browser, and Chrome OS both support an ever-increasing number of Chrome Apps, including many of which can run offline. In School District 21, students receive apps that are chosen and pushed out centrally. At this time, students cannot download their own Chrome Apps.
To launch apps, students should click the App launcher near the lower left corner of their Chromebooks' screens. The App launcher is the button that is a grid of nine squares as pictured below.

(Staff members–please note that this same look-and-feel has recently been adopted in Chrome on Windows and Mac. In Chrome, the browser, on Windows and Mac, this logo appears in the upper-right corner of a new tab. It is the same grid as in Chrome OS–just colorful!)

Clicking the App launcher in Chrome OS will allow a new menu of apps to pop up as pictured below. (Later this year, we expect to be able to group apps in to folders within this menu–like on Android or iOS.)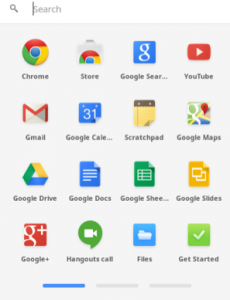 Do note that at the bottom of the Apps menu, there are multiple horizontal lines. Each of those represents a page of Chrome Apps. One is blue. That represents the page that you are currently viewing. Any others are light gray. Upon initially rolling out the Chromebooks, students in School District 21 have two pages of Chrome Apps that are displayed.
To launch an App, simply click on it!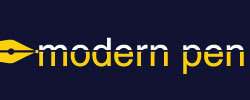 Each District 21 school is named after an American author, and learning and literacy is at the center of our Professional Learning Community. The Modern Pen provides a collaborative location in which District 21 teachers can come together to learn the skills that will enable their students to learn new skills and to understand concepts at an even different level than before.
Search