October 20, 2013
Students' Acer Chromebooks have no buttons on the trackpad. To click on the trackpad, the user simply pushes down on the bottom half of the trackpad and clicks.
Like on a Windows and Mac computer, Chrome OS has hidden contextual menus that programmers can use to provide options to users that are helpful on a particular screen within an app. In the picture below, you can see the contextual menu in Google Slides.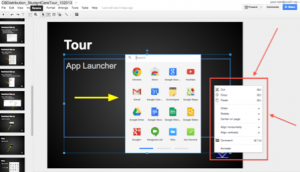 Contextual menus make using an app both more efficient and more enjoyable.
How does one launch a contextual menu??? Simply by "right-clicking"…
And, how does one right-click on a Chromebook when there are no buttons on the trackpad? There are two options…
Click on the trackpad with two fingers at the same time

Hold down the "alt" key to the left of the space bar and click the trackpad with one finger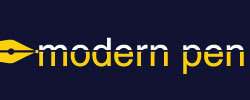 Each District 21 school is named after an American author, and learning and literacy is at the center of our Professional Learning Community. The Modern Pen provides a collaborative location in which District 21 teachers can come together to learn the skills that will enable their students to learn new skills and to understand concepts at an even different level than before.
Search