October 20, 2013
One of the reasons that students and staff members selected Chromebooks as the student device to provide was because of the incredible ease of technical management. Like all operating systems, from time-to-time, Chrome OS will require updates. These updates are issued by Google directly to the Chromebooks. When the Chromebook receives the update, an arrow will appear in the lower right portion of the screen in between the time and the WiFi signal.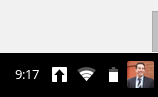 When this arrow appears on your screen, and at a time that will not be disruptive to your work and learning, students themselves can and should click on the arrow.
A button will appear above the arrow in the bottom of the settings window that says, "Restart to Update". Click that button.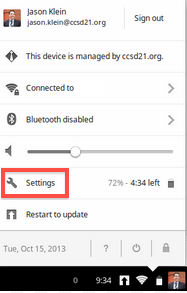 The computer will restart, and approximately 10-15 seconds later, the user will be prompted to log back in by entering his or her password. The computer has now been updated!
Students are expected to update their Chromebooks when the arrow appears.
By keeping our Chromebooks updated, we ensure that we have the most secure version of Chrome OS with all of the latest features!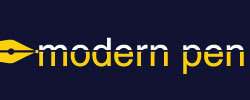 Each District 21 school is named after an American author, and learning and literacy is at the center of our Professional Learning Community. The Modern Pen provides a collaborative location in which District 21 teachers can come together to learn the skills that will enable their students to learn new skills and to understand concepts at an even different level than before.
Search