November 3, 2013
Creating an assignment to enter the scores from a particular assessment in the PowerTeacher Gradebook is fairly easy and offers lots of options to the teachers on a particular team.

To create an assignment in the Gradebook, first be sure that the "Assignments" button has been clicked and is blue. (By default, the Assignments mode is opened in the Gradebook.) Then, to add a new assignment, click the "+" button as shown above.
After the "+" button has been clicked, the new assignment dialog will open as pictured below. Simply complete the different elements of this dialog, and then, click the "Save" button in the lower right corner. Then, your assignment will appear as a new column in the Gradebook, and scores can now be entered for individual students.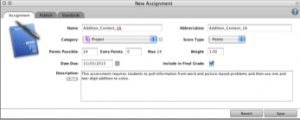 Remember, it is critical that assignments are weighted by the "Points Possible" field. The "Extra Points" and "Weight" fields should not be used.
The "Include in Final Grade" checkbox allows teachers to use the Gradebook to collect data, including data that will not even be used to compute the final grade.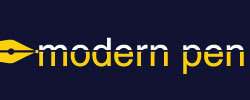 Each District 21 school is named after an American author, and learning and literacy is at the center of our Professional Learning Community. The Modern Pen provides a collaborative location in which District 21 teachers can come together to learn the skills that will enable their students to learn new skills and to understand concepts at an even different level than before.
Search