November 4, 2013
The Gradebook greatly enhances the efficiency of teachers and teams in collecting and organizing data, grouping and re-grouping students, and differentiating assessments and instruction. Additionally, when teachers use the Gradebook throughout the trimester, there are only a few tasks that remain to be completed at the end of the trimester or end of the year.
While the Gradebook does enhance overall efficiency, there are times when student progress at the end of the trimester is not best described by the auto-calculations completed in the Gradebook. In these cases, when teachers and teams have evidence that the final Academic Grade, Learner Quality Grade, or Power Standard that has been calculated by the Gradebook is not the best descriptor of student performance, the teacher or team can override the students' grade manually in the Gradebook.
To manually override the grade near the end of a trimester, first, be certain that you are working within the correct trimester in the upper-left corner of the Gradebook.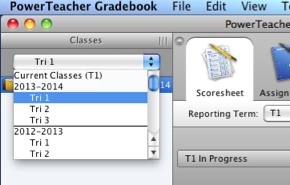 Next, find the student whose score you need to override based on the evidence collected in the Gradebook, and double-click in the "Final Grade" column in that student's row. The "Score Inspector" dialog box will now pop up.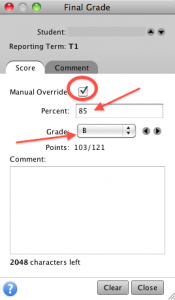 Check the checkbox for "Manual Override" and then adjust both the percentage and the Grade to match what is needed to best describe the student's performance based on the evidence you have collected.
Be sure to click the "Close" button in this dialog box when you are done, and be sure to click the main "Save" button in the lower-right corner of the Gradebook.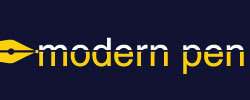 Each District 21 school is named after an American author, and learning and literacy is at the center of our Professional Learning Community. The Modern Pen provides a collaborative location in which District 21 teachers can come together to learn the skills that will enable their students to learn new skills and to understand concepts at an even different level than before.
Search