November 9, 2013
Middle school teachers have entered comments in the Gradebook in the same manner since PowerSchool launched the Gradebook. Middle school teachers are able to provide up to two comments per area of assessment. Areas of assessment include both academic grades and the Learner Qualities for both core teams and exploratory classes.
Comment Bank
Rather than free-writing comments, middle school teachers utilize a Comment Bank. While this restricts teachers to using pre-written comments, there are hundreds of comments, and these have been written and refined by teachers within each of the middle schools. Additionally, these comments are available in both English and Spanish. This allows an English-monolingual teacher to provide comments in Spanish effectively to the families of students who prefer written communication in Spanish.
Entering Middle School comments in the Gradebook
Middle school comments need to be separately entered in each Gradebook–academic or Learner Quality. Again, no more than two comments can be entered per Gradebook per trimester.
First, with the correct trimester selected, double-click in the Final Grade column as pictured below.

After double-clicking there, the Final Grade Score Inspector dialog will pop up. Click on the "Comment" tab.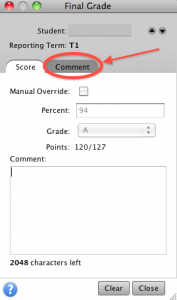 To actually insert the comments, first, for the "Show Comments" drop-down, select "District Comment Bank". Then, below the actual comment bank, select "Spaces" from the "Separate Using" drop-down. (This is pictured below.)
To insert each comment (up to two), find the comment that you would like to insert and double-click on it. The comment will appear in the Comment box in the bottom third of the Final Grade dialog box.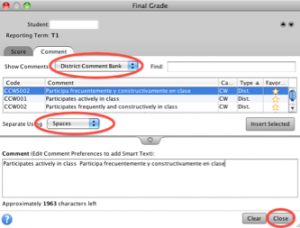 When you have completed entering comments, click the "Close" button.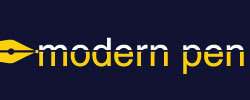 Each District 21 school is named after an American author, and learning and literacy is at the center of our Professional Learning Community. The Modern Pen provides a collaborative location in which District 21 teachers can come together to learn the skills that will enable their students to learn new skills and to understand concepts at an even different level than before.
Search