January 12, 2014
Within hours of eighth graders first receiving their Chromebooks in October 2013, students were discovering that their Chromebooks could serve as a more modern, more effective version of the traditional assignment notebook. We've identified multiple strategies for effectively using your Chromebook to keep track of your assignments and manage your time and work.
In this post, you can read about using Google Calendar as your assignment notebook.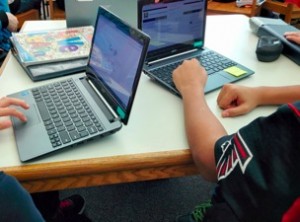 In some ways, using Google Calendar is the simplest way to keep track of your assignments and to manage your time for school. To do this, you will simply block out the time each evening that you will be doing your work. You will typically need to block out between 60 and 90 minutes for our middle school students.
Begin by opening your Google Calendar as pictured below.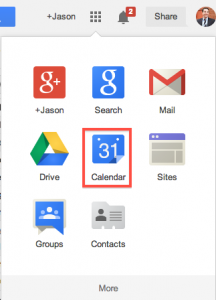 In your calendar, create the event for doing your homework. (You can create these ahead of time–for example, over the weekend, for the entire week coming up, but do not try to save time and make the event a repeating event–It won't really help in this case!)
To create the event, simply click in your calendar at the time you want to begin doing your homework. Then, you can title the event, "Homework Time" or something similar. Finally, click the link "Edit Event" after you have entered the title.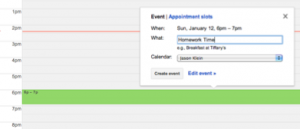 Then, within the event, you will actually enter your assignments in the event's Description as pictured below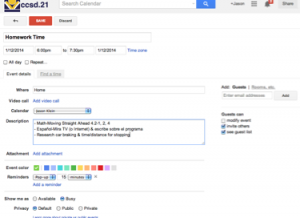 You will need to click the red "Save" button at the top of the page each time you add an assignment throughout the school day.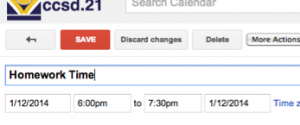 After you have clicked "Save", the calendar event will appear as a normal event on your calendar. To view your assignments or to add or delete assignments, you will need to double-click on the event in the calendar to open it.

You can edit the calendar event as often as needed, but you must remember to click the red "Save" button each time that you edit the event.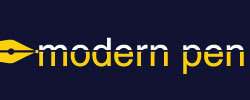 Each District 21 school is named after an American author, and learning and literacy is at the center of our Professional Learning Community. The Modern Pen provides a collaborative location in which District 21 teachers can come together to learn the skills that will enable their students to learn new skills and to understand concepts at an even different level than before.
Search