March 3, 2014
WeVideo is the premier Chrome video editing suite. WeVideo videos are stored in one's Google Drive, and the user can have up to 5 GB of WeVideo videos. To launch WeVideo the first time, it must also be connected to one's Google Drive.
WeVideo currently has free and paid services. At this time, School District 21 is utilizing the free service. As a result, at some point in the future, the service may or may not stay the same. Please be aware of this as you engage with using WeVideo.
First, launch WeVideo by clicking on the WeVideo button as pictured below. (Please note that we have also deployed WeVideo Next, which is actually a different Chrome app.)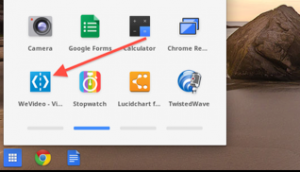 When you first launch WeVideo, it will ask you to accept permissions to connect WeVideo to your Google Drive as pictured below. Click the blue "Accept" button at the bottom of the picture in order to accept these permissions and proceed.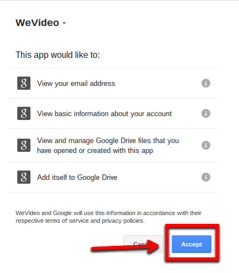 After accepting the permissions, you will proceed to the WeVideo launch page. In the top portion of the window, there will be an advertisement encouraging you to upgrade with a large upgrade button (that is crossed out in red in the picture below).
Rather, to start a new project click the grayscale "Create New Project" link. Or, further below, if you would like to add additional videos to an existing link, click the green "Create Video" button that is highlighted with the arrow below.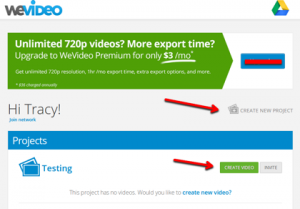 Then, once you are in the app, you can create your video. Once videos are complete, they should be downloaded for Instructional Tech Teachers, who can then upload the final products to our School District 21 media server for public viewing.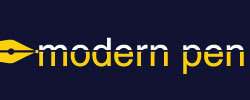 Each District 21 school is named after an American author, and learning and literacy is at the center of our Professional Learning Community. The Modern Pen provides a collaborative location in which District 21 teachers can come together to learn the skills that will enable their students to learn new skills and to understand concepts at an even different level than before.
Search