August 23, 2014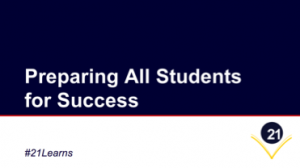 The 2014-2015 school year started with an emphasis on School District 21's two PLC Areas of Focus: Inclusionary Practices and Authentic Learning. The day began with CCSD21 Superintendent Dr. Kate Hyland encouraging all staff members to continue to collaborate in focusing on our students, their needs, and preparing them for their futures despite the challenges that educators face generally with policy decisions that unintentionally distract from these efforts.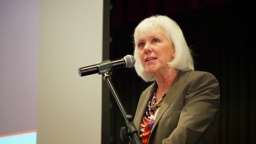 School Board President Bill Harrison continued this theme. Mr. Harrison spoke of the impact that School District 21 staff members have had on his own children and his recognition of those efforts of staff members on a daily basis for our current students.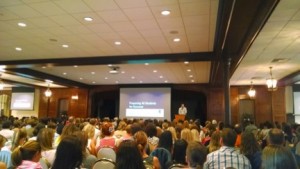 From there, the attention shifted to keynote speaker and teacher and educational leader, Diana Laufenberg. Diana Laufenberg spoke eloquently about "Empowering all students to learn"–with a focus on both Inclusionary Practices and Authentic Learning.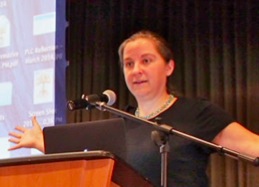 Diana's presentation not only highlighted specific products and students from her experiences working directly with a wide range of students, but Diana also was successful in connecting CCSD21 staff members to one another and the world as individuals shared their learning with their Professional Learning Networks as is clear from the examples below.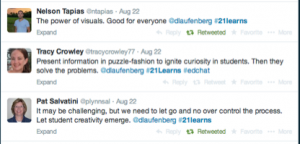 As always, CCSD21 Board of Education members continued to engage in their own learning, as well.

With a focus on ensuring that ALL students are included and challenged appropriately within Authentic Learning environments, School District 21's 2014-2015 school year is off to an exciting start filled with potential for students this year–and well into their futures.
As staff members continue to learn in their own classrooms and with their teammates and colleagues at their schools, they are encouraged to share their learning and the work of their students (within the CCSD21 guidelines) on Google+ and via Twitter using the hashtag: #21Learns.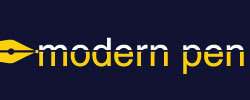 Each District 21 school is named after an American author, and learning and literacy is at the center of our Professional Learning Community. The Modern Pen provides a collaborative location in which District 21 teachers can come together to learn the skills that will enable their students to learn new skills and to understand concepts at an even different level than before.
Search