May 1, 2017
Google has rolled out a new feature called Team Drives and these are now available for all staff members.
What are Team Drives?
Team Drives are shared spaces where teams can store their files and guarantee that every member has the most up-to-date information, no matter the time or place.
How are Team Drives different than shared folders?
Every person who belongs to a Team Drive gets instant access to that team's documents, just like with a shared folder. However, Team Drives are designed to store the team's work collectively, so if a document's creator moves off of the team (maybe they have a different assignment in the district or they leave the district) the document doesn't go with them. Files in Team Drive are associated with the team, rather than the individual user. Anyone with access to a Team Drive can add any of their existing Google Drive Documents to the Team Drive as long as they are still the owners of that document.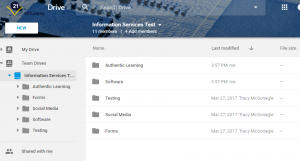 How can I create a Team Drive?
Visit drive.google.com.
Click "Team Drives" on the left-hand side of the screen.
Click the blue "New Team Drive" button on the left-hand side of the screen to create a new Team Drive for you and your teammates.
Add teammates and files to your Team Drive.
Find more information at Google Drive Help and to watch a video demonstration visit this YouTube demonstration.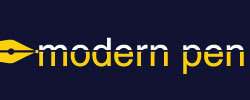 Each District 21 school is named after an American author, and learning and literacy is at the center of our Professional Learning Community. The Modern Pen provides a collaborative location in which District 21 teachers can come together to learn the skills that will enable their students to learn new skills and to understand concepts at an even different level than before.
Search